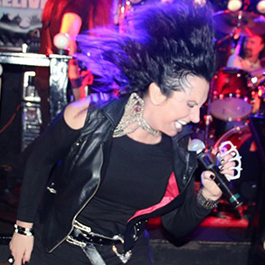 Roberta "Glert" Gold (Vocals) – At a young age, Glert discovered that a hairbrush made a great microphone and at that moment her inner rockstar emerged and she has never looked back. After attending Berklee College of Music in Boston MA, she moved to Las Vegas and performed as a featured vocalist throughout Las Vegas in various casinos including Bellagio, Caesar's Palace and The Hard Rock. She formed the funk/rock group "The Glert" and recorded a CD "On Black Paper" with one of LA's hottest, most progressive producer / engineer-Sally Browder (Rockets from the Crypt, Dwight Yoakam, Young Dubliners). "The Glert" opened for acts like Reel Big Fish, Goldfinger, George Thorogood and Linda Perry (4 Non-Blondes). Glert was featured on an episode of the hit show "My Fair Wedding as featured performer. Check out her vocals on the YouTube hit motivational song "You Gotta Want It" with over 2.2 million hits.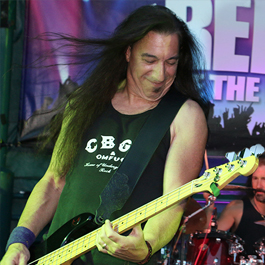 Dean Anthony (Bass & Vocals) – A veteran of the music scene Dean brings his solid rhythms to Arena. Dean has been involved in a number of projects over the years, most notably Rising Sun recording artists "Platinum", with a release and tour in the early 90's. He is no stranger to the club circuit playing with many tribute acts. Since 1998 he has made his presence known as "Izzy" in the Guns And Roses Tribute "Get Your Guns". Along with his club experience, some of his credits include; Quadrapane Indie release in 2006 (guitar, vocals & bass), Crossfire release 1998 (bass & vocals), and countless studio sessions for semi national artists. A solid "In The Pocket" player, he adds an energetic feel and sound to any project. Dean's proven talent and experience makes him an important part of the Arena experience.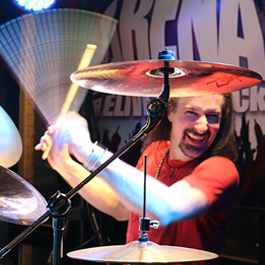 David Koch (Drums & Vocals) – David is seasoned musician with a diverse taste in music, playing everything from progressive to hard rock and heavy metal. He started playing drums at the early age of 8, and schooled his chops from the drums masters from the likes of John Bonham, Neil Peart, Gavin Harrison, and Carter Beauford. In addition to his drumming, Dave can also be seen playing around NYC area sitting-in with other bands such as the Air Dogs, Tighty Whitey, Zero and Almost Famous. In addition to playing live music with numerous bands over the years, Dave does session work and has written, recorded & produced music for Film, TV, Digital Media and Corporate Identities. Add to that his impressive vocal ability, his dynamic stage presence & his chemistry with the rest of the band, and you've got one hell of a live performer!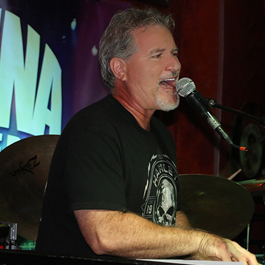 Ken Gold (Keyboards & Vocals) – Ken is a graduate of Berklee College of Music, and performed all over the world opening or sharing the stage with artists like George Thorogood, Kansas, Cheap Trick, Rick Springfield, Jim Peterik of Survivor and Steven Van Zandt. The founder of Gold Brothers Music, he produces music for film, tv, and advertising internationally. He also writes songs for various recording artists around the globe. Ken has toured Southeast Asia with The Platters. Partnered in a recording studio in Las Vegas where Celine Dion, Christina Aguilera and Gladys Knight recorded. Produced and wrote for international recording artists "Fantasy" with famed producer Jerry Marcellino. [Jackson 5, Bobby Darin, Michael Jackson]. In his spare time, he is an avid air guitarist and Cincinnati Bengals fanatic.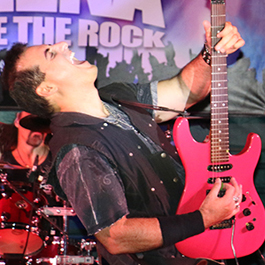 Duane Belotti (Guitars & Vocals) – As a talented musician, Duane has performed all over the U.S. and in South America. He has worked with a variety of talented artists and has written, produced, and recorded four original album projects. His music has been featured on WDHA NJ's Rock Radio. Duane also performed in a Def Leppard tribute band (Phil Collen) for over 7 years. He attended The Rock n' Roll Fantasy Camp and performed with Judas Priest, Geoff Tate and Robert Sarzo of Queensryche, and Zakk Wylde. He also jammed with Lita Ford, Vinnie Appice, Rudy Sarzo, Gary Hoey, Frankie Banali, and Ron Keel. (Check out the videos below.) His influences over the years have included: Judas Priest, Ozzy, Queensryche, Scorpions, Kiss, Queen, Cheap Trick, AC/DC and Def Leppard. Duane is engaging and a true performer. Come see for yourself – you won't be disappointed.
• V1: The Grinder (Judas Priest – Travis/Hill) • V2: The Grinder ( Judas Priest – Rob Halford/Fauckner)
• V3: Lights Out (Zakk Wylde) • V4: Silent Lucidity (Geoff Tate/Sarzo) • Blabbermouth Write-up